Be part of Scandinavia's largest Pride-festival
At Stockholm Pride, everyone from the board to festival management and staff works on a volunteer basis. Working as a volunteer is an incredibly fun, intense, developing and including experience, which many come back to year after year. Together we create a safe space for lgbtq+ people, put lgbtq+ questions on the political agenda and build the largest Pride-festival in the Nordic region!
In order to do the work we do, we need all sorts of competences, and the assignments vary in length. Most assignments takes place between week 30-23 2023, but there are also assignments that start at the beginning of the year. At the moment, we require a little extra reinforcement within our Communications team and Marketing team. All work is at a volunteer basis, but it is incredibly educational and meaningful!
Does this sound interesting? Do you want to join 2024? Do you have any further questions or just want some more information? Please email us at [email protected], and we will get back to you.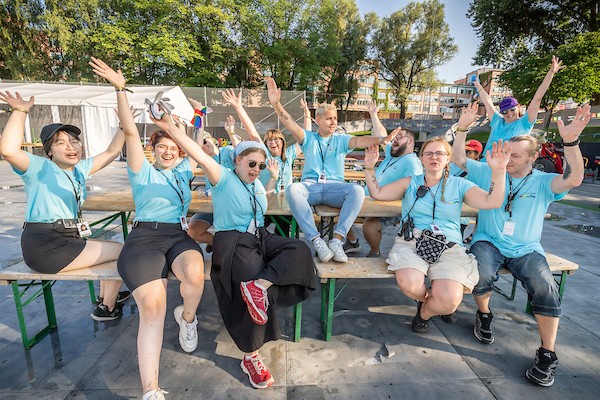 Each year, lots of people volunteer within Stockholm Pride, and without all these amazing volunteers, the biggest Pride-festival in the Nordic would not be possible. We hope that you want to join us for the next festival! Below, you can find the areas and assignments we are seeking volunteers for. For more detailed information, please email [email protected].
The volunteer group are the volunteers that take care of other volunteers in some way.
First aid
(First aid certification required.)
Volunteer-café
Volunteer coordinator
The communication group is responsible for all communication channels and photography.
Communicator
(Some experience may be required.)
The security teams handles security across several areas over the festival.
The contact center
Mobile resource
(Requires possibility to be on the move a lot.)
The marketing teams handles partners and exhibitors, and ensures that all parties are happy.
Partners
Exhibitor service
Cash register
Cash office
Visitor service
Pride House is where conversations take place, and volunteers handle visitors and tickets.
Within Pride Park, the volunteers work with services, on stage, back stage as well as with the performers and artists.
Activity host
Artist service
Material shed
Park service
Stage ditch
Stage hump
Stage camera
Transport
(Drivers license minimum 5 years required.)
In the Pride Parade you will work with maintaining security and festivities for both the audience and the participants.
Pride Parade
(Could beneficially be combined with other roles.)
Pride Young is all about creating a safe and fun space for youths age 13-25.
Pride Young
(Police records may be requested when working with youths.)
At Pride Kinky you will find everything about BDSM and fetishism.
Pride Kinky
(Being comfortable with BDSM required.)
Pride City encourages other parties within Stockholm to get involved and highlight lgbtq+ issues.