Become a member
Join us and support, contribute and affect the Stockholm Pride Association as a member. Email us for more information.
Become our partner
No one can do everything. But the more we are, the more we can achieve. Support the most fun event of the year!
Information About the Festival
Do you have questions about tickets, prices, age restrictions, security, DogTags, or anything else? You will find most answers here!
The 2023 program
We have started rolling out the program for the festival, and it will be filled over time with more fun and interesting events!
Stockholm Pride celebrates 25 years and diversity
Stockholm Pride celebrates 25 years with the theme "Celebrate diversity" for this years festival. It is a theme that aims to pay tribute to all of you who contribute to increased diversity in society in terms of identities, sexual orientation, religions, cultures, heritages and much more. Together we all form a beautiful rainbow that makes society warmer, more colorful and a more enjoyable place to exist in. We welcome everyone – in the true spirit of diversity – to join us in this year's Pride celebration!

During the 25 years that Stockholm Pride has been active, there has not always been a easy ride. What has contributed to the fact that we have not only continued to exist, but also become stronger, is that we celebrate love in all its forms and expressions and that we unconditionally stand up for the principle that everyone should be treated with dignity and respect. What also contributed to Stockholm Pride standing strong even today are all the enthusiasts and heroes who lifted and drove the work forward. This celebration is just as much for those who have stood strong for diversity, inclusion and equal value throughout history.

While this year's Pride festival is an anniversary that looks back on the past 25 years, it is just as much about the future. What the creators of Stockholm Pride did 25 years ago is what we are reaping the benefits of today. And what we do now, future generations will in turn reap the benefits. We are not only building tomorrow's Pride, but also tomorrow's society. A society where everyone is welcome, respected and loved. A society we all want to live in.

We therefore hope you will come and celebrate diversity and Stockholm Pride's anniversary with us. Celebrate by educating yourself and others about the Pride movement and the importance of diversity and inclusion. Celebrate by showing respect and diversity in identity, sexual orientation, religion, origin, culture, heritage or expression. Celebrate by listening to the stories and experiences shared by your fellow humans. Celebrate by helping each other create safe environments for open conversations. Celebrate by participating in events and activities. Celebrate by standing up for everyone's equal worth and right to be themselves and love who they want. Celebrate diversity every day. Celebrate by participating in Stockholm Pride.

Together we create memories, a welcoming atmosphere, support and enjoy each other and spread love to everyone. Together we are strong and proud, not only today, but for another 25 years. Least.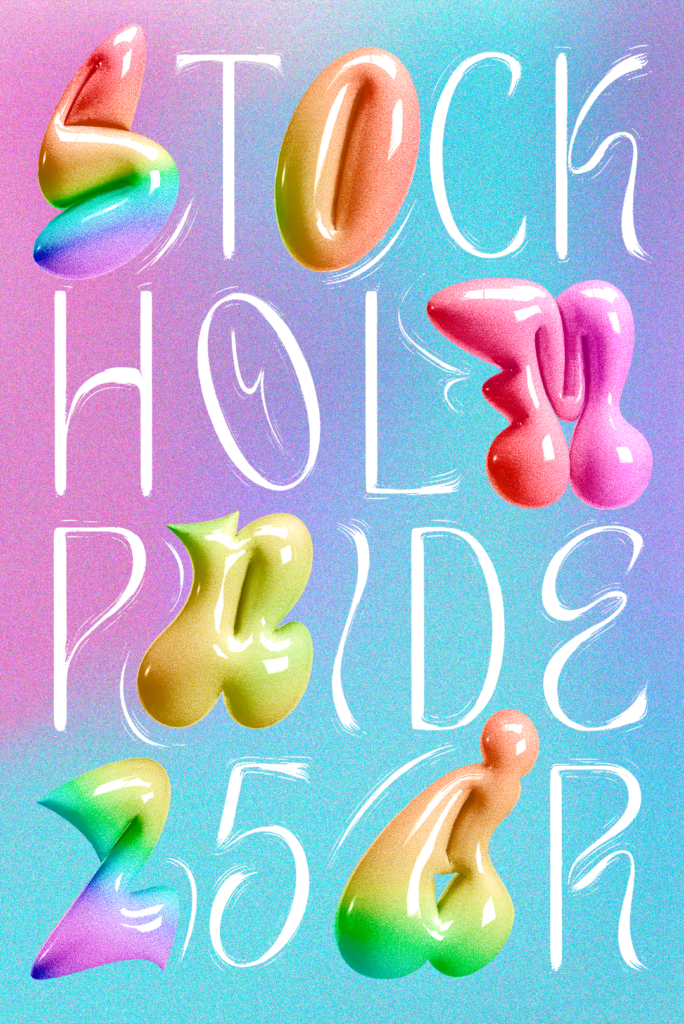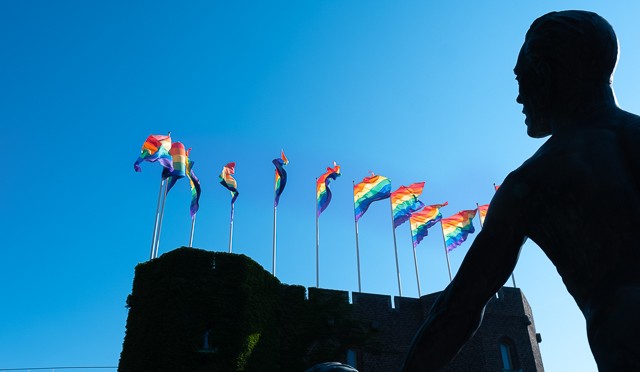 The association Stockholm Pride is a not-for-profit and member-governed organisation for everyone that shares our values. The association's board is appointed by the members at the annual meeting, usually after suggestions from the Nomination Committee. The board is responsible for the organisation between annual meetings and for recruiting the festival management.

The purpose of the association is to make LGBTQ+ issues visible, and create a safe environment for homosexual, bisexual, trans and queer people and all the gender expressions within the LGBTQ+ movement. The Stockholm Pride festival is arranged yearly since 1998 and is the largest Pride festival i the Nordic. All work surrounding the festival is on a voluntary basis. The festival consists of Pride House, Pride Park, Pride Parade and Pride Young/Pride Family.
In Pride House we value and protect democratic communication and the importance of meeting one another, reflect on the past and look towards the future. Stockholm Pride is a platform where organisations, associations, businesses, political parties and individuals can meet and exchange experiences and talk about issues and challenges for the LGBTQ+ community. Here you can also find workshops, author talks and debates.
Pride House will be open from the 31st of July to the 4th of August between the hours of 11.00 and 17.00. Entrance to Pride House is free!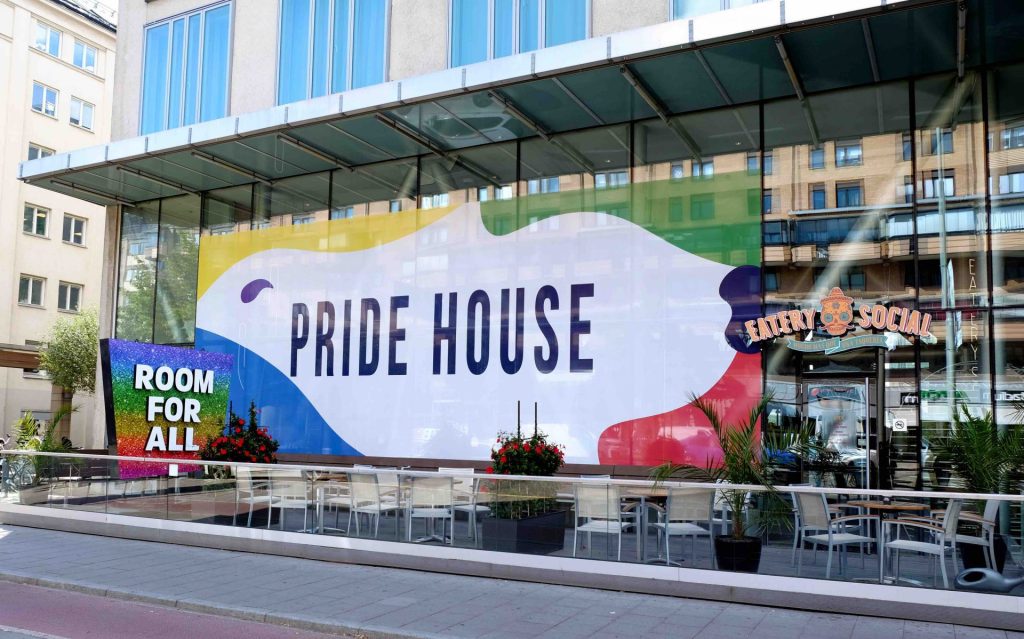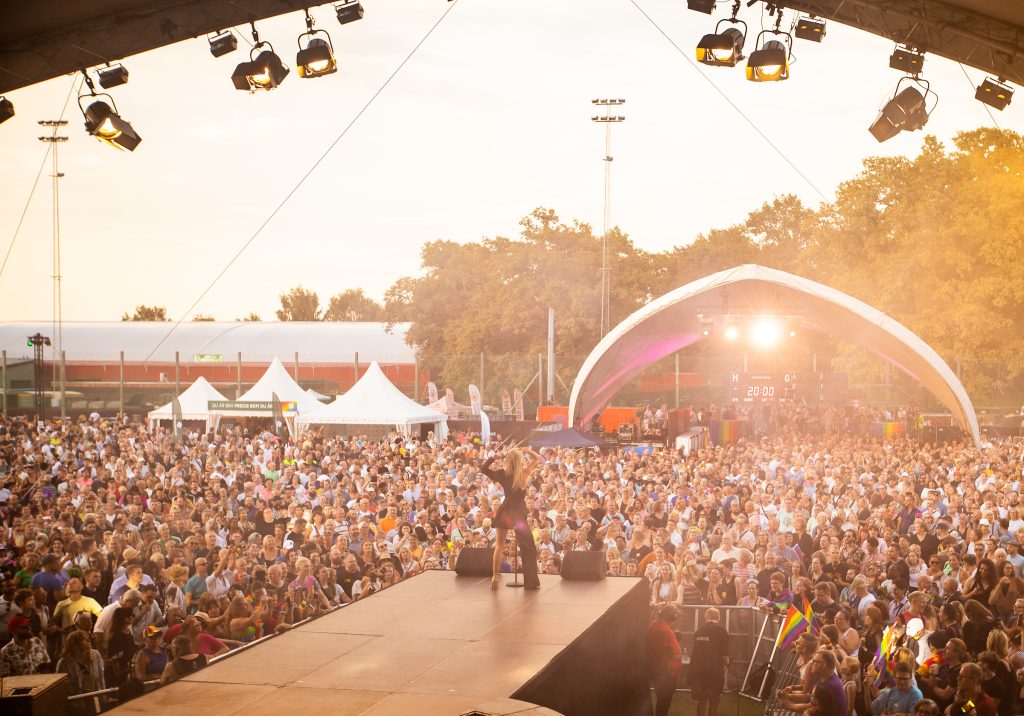 In Pride Park we have amazing artists, exhibitioners, restaurants and bars for music and parties. Pride Park is in many ways the heart of the festival, where visitors, exhibitors, artists and volunteers gather to create Stockholm's largest festival! In the area you can eat and drink well, meet new and old friends or see various performances at the large stage or one of the smaller ones.
In 2023 the park will be open from the 2nd to 5th of August at Östermalms IP. In order to gain entrance to Pride Park you will need to buy a ticket.
The Stockholm Pride Parade is the largest Pride parade in all of Scandinavia with around 50 000 participants in the audience. It is a joyful and colorful manifestation of love for equal human rights and a demonstration for everybody's equal right to love and be who they want to be. The parade marches through central Stockholm.
In 2023 the Parade will start at 13.00 on Saturday the 5th of August along Norr Mälarstrand, close to the city hall. It will travel about 4.5 kilometers and end at Östermalms IP where Pride Park is also located. The path is laid out in this map in green and it usually takes about 2 hours to walk.
As a singular private person you don't need to register for anything, you can just join the crowd! If you are a larger group or have a vehicle you need to register. Last date for registration is friday 21/7 at 23:45.
If you have any additional questions, email us via the link below.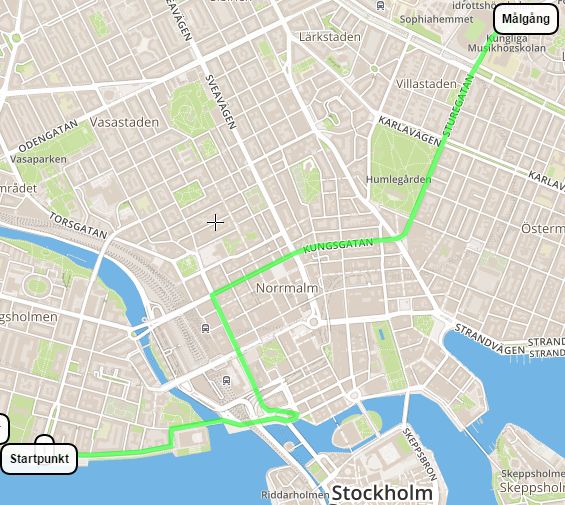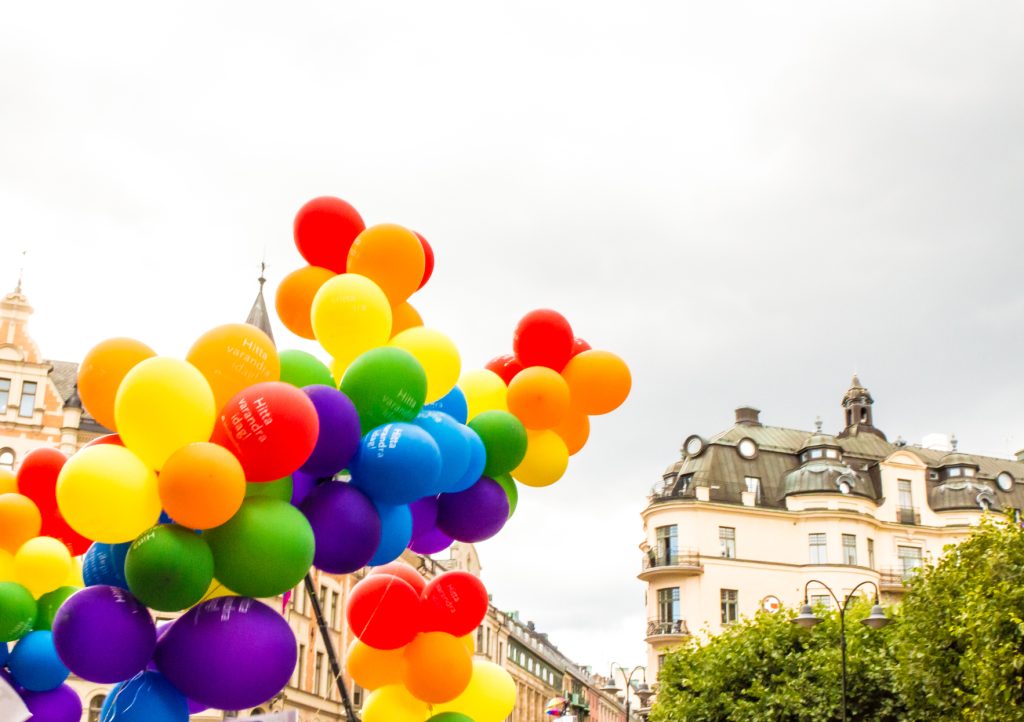 Pride Young is for all youths between 13-25 years old and offers a meeting ground with exciting activities where you as LGBTQ+ youth can meet. Pride Young offers seminars and theme-days. Pride Family is for the whole family, old as young. At Pride Family everyone is welcome!

At Lava, Kulturhuset Stadsteatern's (Stockholm House of Culture & City Theatre's) space for young culture, you between 14-25 years can make pins, paint, lend books and much more. Lava is located in Stockholm House of Culture & City Theatre at level 4 and is open almost every day year round!
Photos from the festival 2022
You haven't missed all the amazing photographs from the festival 2022, have you?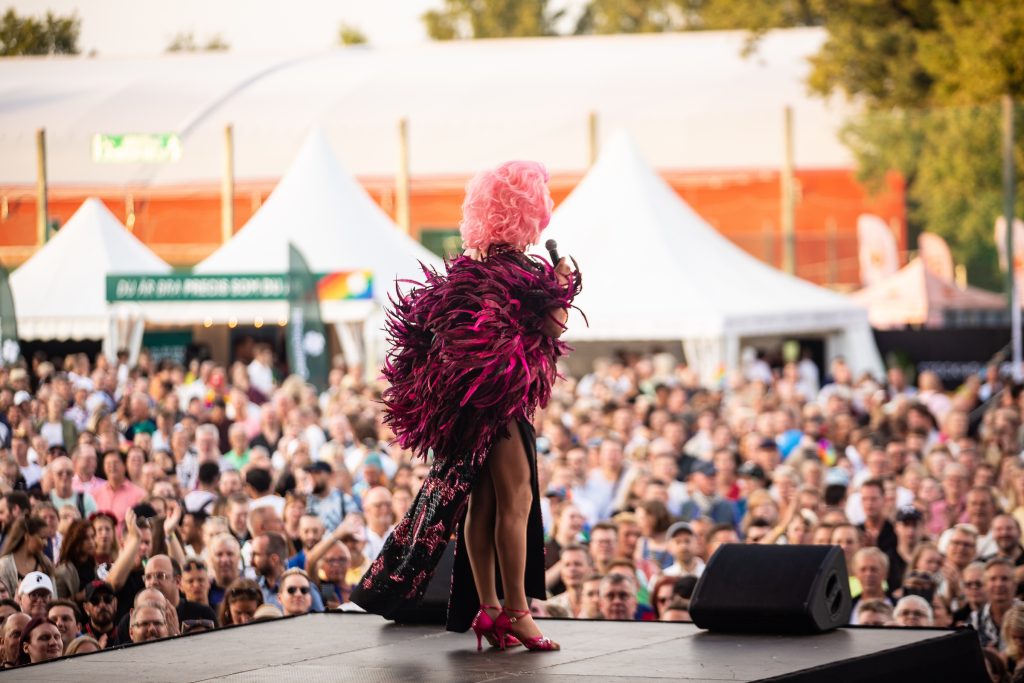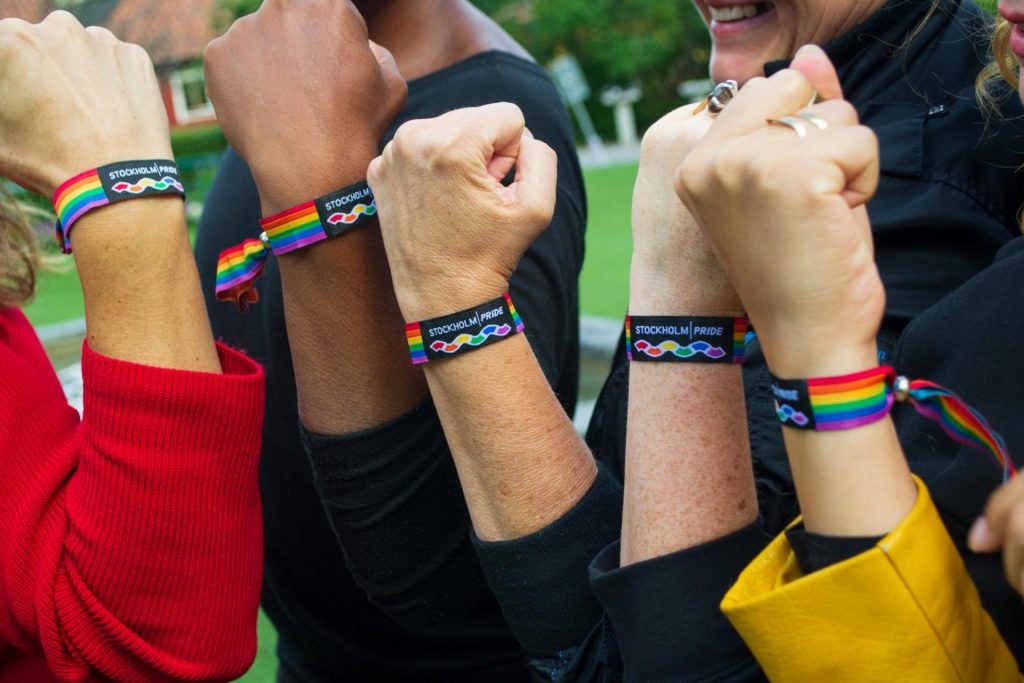 Stockholm Pride is also managing a fund known as the Solidarity Fund to help other pride organizations around the world. You can learn more about it on our dedicated page.